By Ashley Berke
[February 24, 2017; Kennett Square, PA] – New Bolton Center's Equine Field Service experts, Drs. Liz Arbittier, Ashley Boyle, Jennifer Linton, and Meagan Smith, will each share details of complex cases from the field, highlighting their various specialties, as part of the First Tuesday Lecture series.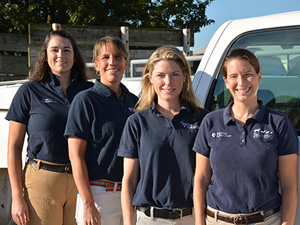 The presentation, "Tricky Cases from the Field: What's Your Diagnosis?" will take place on Tuesday, March 7, at 6:30 p.m. in New Bolton Center's Alumni Hall, 382 West Street Road, Kennett Square, PA. The lecture is free and open to the public. Due to limited seating, reservations are recommended and can be made by contacting Barbara Belt at This email address is being protected from spambots. You need JavaScript enabled to view it..
With advanced training and expertise, New Bolton Center's Equine Field Service specialists bring the highest quality care directly to area farms, backed by the support of the hospital. During the First Tuesday Lecture, the team will showcase how their expert knowledge, state-of-the-art equipment, and compassionate care have helped in the diagnosis and treatment of complicated cases.
New Bolton Center's Equine Field Service TeamArbittier, Clinical Assistant Professor of Equine Field Service, will present the case of a lame performance horse, discussing diagnosis and treatment of a difficult yet common injury.
Boyle, Assistant Professor of Medicine, will share the case of a horse with one-sided bloody nasal discharge, and the complex work-up required for diagnosis and treatment, including radiographs, endoscopy, and robotic CT scan.
Linton, Senior Fellow in Field Service and Reproduction, will review metabolic diseases that ponies and horses can develop, including Cushing's Disease (PPID) and Equine Metabolic Syndrome.
Smith, Assistant Professor of Equine Field Service, will present several cases of horses that developed an extra molar, also known as supernumerary cheek tooth, which can be a mysterious cause of poor performance or mouth pain.
Spring First Tuesday Lecture Line-Up:
April 4: Dr. David Levine "Dynamic Endoscopy: The Airway in Action"
May 2: Dr. Andrew van Eps "Laminitis: Why Does It Occur? How Can We Better Manage It?"
June 6: Dr. Dean Richardson "The Recovery Pool: Defying Gravity after Orthopedic Surgery"
About the First Tuesday Lecture Series
The First Tuesday Lectures, free and open to the public, are presented September through December, and March through June. During the series, faculty and clinicians at New Bolton Center share current information on equine topics of interest to horse owners and caregivers. Many of the lectures highlight the advanced techniques performed by Penn Vet's team of leading clinicians, and the state-of-the-art equipment and facilities available to ensure the best possible outcomes for patients.
About Penn Vet
Ranked among the top five veterinary schools worldwide, the University of Pennsylvania School of Veterinary Medicine (Penn Vet) is a global leader in veterinary education, research, and clinical care. Founded in 1884, Penn Vet is the first veterinary school developed in association with a medical school. The school is a proud member of the One Health initiative, linking human, animal, and environmental health.
Penn Vet serves a diverse population of animals at its two campuses, which include extensive diagnostic and research laboratories. Ryan Hospital in Philadelphia provides care for dogs, cats, and other domestic/companion animals, handling nearly 35,000 patient visits a year. New Bolton Center, Penn Vet's large-animal hospital on nearly 700 acres in rural Kennett Square, PA, cares for horses and livestock/farm animals. The hospital handles nearly 4,900 patient visits a year, while the Field Service treats more than 38,000 patients at local farms. In addition, New Bolton Center's campus includes a swine center, working dairy, and poultry unit that provide valuable research for the agriculture industry.