What an appropriate name for Tandy Joy Hufford who operates "The Blanket Lady LLC" in Coatesville, PA. Recently, EquestrianList sat down with Tandy to learn more about her company.

Q: Can you tell us about how you got started in the blanket cleaning business?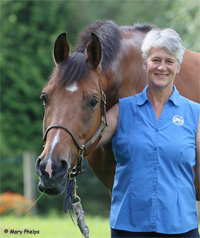 Tandy: I started this business about 23 years ago. I wanted a change from my job in corporate America. I wanted to do something horse related that didn't involve actually having horses, other than my own. I wrote a business plan, presented it to a bank (what a great way to get an independent opinion on the validity of the business), hired someone with expertise and got after it!
Q: What's unique about your business?
Tandy: I take great pride in my blanket cleaning process. I make sure I use environmentally sound cleaning methods and equipment, I use proper cleaning products, have installed solar panels to generate electricity and have learned a lot about proper wastewater treatment!
The Blanket Lady LLC has a flexible work force depending on the time of year and schedules. Aside from myself, my main helper is someone who retired from 20 years of professional grooming, with a Olympian Event Rider. Needless to say, we know horse blankets.

Q: Can you explain to us a little of the process you use?
Tandy: We have top of the line machines with nine specialized programs that dispense the appropriate cleaning products at the right point in the cycles. Most programs include two wash cycles and three rinses. The spin cycles are measured in G forces. We also have laundry chemists who advises us on the latest and greatest products suitable for washing horse blankets. When the Rambos first came out 20 years ago with their Aqua-trans waterproofing, we tested to make sure that our cleaning process wouldn't strip the waterproofing from the blankets- a common problem in this industry. I also think that having a fully climate controlled facility with ample ventilation sets us apart from our competition. You won't find your blanket hanging on a fence trying to dry in our usually humid Pennsylvania weather. Our specially constructed building prevents the growth of mold and mildew and any funky smells! Also, part of our washing includes a disinfecting process. It's important to kill the fungus and bacteria (think ring worm and staphylococcus bacteria, which thrive in barn environments).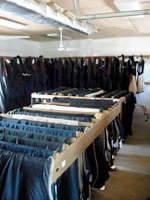 Q: Can you give us any blanket cleaning secrets? When's the best time to get a blanket washed?
Tandy: The best time to get your blankets cleaned is whenever they are dirty! Because we have a fully climate controlled facility, we are open year round. Blankets dry quickly and thoroughly with ample ventilation and no exposure to the outside temperatures or harmful effects of the sun. Our busiest time is May through September. We take pride in accommodating customers' special scheduling requests. We can do very quick turnarounds if we have advance notice. Depending upon the number of blankets, we can turn around an order in two days- sometimes less.
Q: Any memorable customers?
Tandy: The largest single customer I have gives us about 130 blankets. The most blankets we have seen for one horse is 12!
Q: What do you enjoy most about this business?
Tandy: My favorite part of the business is meeting customers and hearing their stories. Even though I have spent almost my entire life in this area, The Blanket Lady has taken me places that I never knew existed! Also, the need for horse blankets transcends all disciplines. And it's not just competition horses that wear blankets! Our clients run the gamut of Olympic riders to backyard trail riders, and everyone in between.
What I am most proud of is the quality of our repairs. We make every effort to return blankets in as close to new condition as possible. We stock numerous colors and types of fabrics, all of the highest quality. While we can't match every blanket color, we won't put an orange patch on a green blanket! Also, because we often provide after-market customization, lining repairs and alterations are common requests.
Q: Can you tell us more about your connection to the horse community?
Tandy: I am a life long horse addict - from fox hunting and Pony Club, to Eventing and the Hunters. I've served on the Board of Governors at Radnor Hunt and on the Board of Directors of Directors at the USEA. I met my first husband (the current course builder for Rolex) through a 16-year commitment to The Radnor Hunt International Three-Day Event, I served as an Administrative Assistant to Jane Atkinson for over 10 years at The Rolex Kentucky Three-Day Event, and volunteered at several US hosted Olympic Games. Recognizing that I spent many years on the ground helping others enjoy their equestrian dreams, I figured I'd better start pursuing some of my own, albeit modest, goals. On my farm, I currently have two homebred horses that I show, a retired show horse and a 40-year-old pony that belongs to a friend. I've been accused of providing a higher standard of living for my animals than many humans enjoy!
Q: What do you do when you're not hanging with the horses or running The Blanket Lady?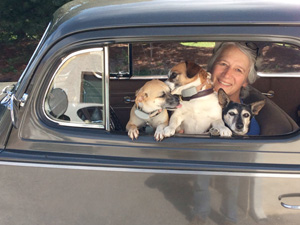 Tandy: Aside from my passion for horses, I enjoy traveling with my husband (even if it's just to Starbucks in his 1940 Packard), reading, gardening, cooking for small dinner parties, and live music. You can usually find me hanging around my farm with my dogs, horses and my sweetie. Tandyland at its best!
Editors Note: The Blanket Lady LLC is located at 113 Wynne-wood Dr. Coatesville PA 19320. In addition to cleaning and repairing blankets, The Blanket Lady LLC represents (sells for) the Clothes Horse, a line of custom horse blankets, and The Curvon Corporation which makes the Baker line of blankets. Tandy would be happy to discuss those lines with you.
You can call Tandy directly at (610) 331-7665 to schedule a drop off to her farm or blankets for her to pick up at yours