By: This email address is being protected from spambots. You need JavaScript enabled to view it.- May 21, 2017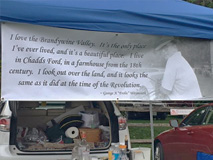 The Radnor Hunt Races, now in its 87th year, are about land as much as they are about horses, and Saturday was a celebration of both. Hundreds of hat-bedecked picnickers gathered to watch horses and riders compete in the six races of the annual event, all in support of the Brandywine Conservancy. The Conservancy, the brainchild of the late George A. Frolic Weymouth, is a land trust dedicated to preserving open spaces in Delaware and Pennsylvania.
Among those partaking in the day's festivities was Diane Yovanovich, of West Grove, PA. Diane has been attending the Radnor Races since before the official tailgating began. She used to bring picnics to the hill to cheer on her brother, a rider, and "to dust him off and set him back on his feet" when he had an occasional fall.
Diane, like many attendees, takes great pleasure in the tailgate competition, and this year, she chose a theme focused on George A. "Frolic" Weymouth's legacy.
Inspired by a quote comparing the Brandywine Valley to the time of the Revolutionary War (see accompanying side photo), Diane chose the theme "From the Revolution to the Vision."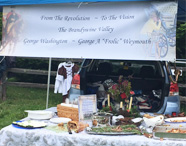 As she explained, "George Washington saved the country, but George Frolic saved the countryside." In a nod to that ideal, she and her companions dressed up in Revolutionary-era clothes and prepared a menu of colonial dishes- wild boar, roast white lasagna, plum-raisin bread with homemade Muckleshoot-raspberry jam and more. The black bottom cheesecakes bars were delicious!
Other tailgaters chose to honor Frolic's legacy as well. One group took its theme from his painting, "The Way Back," and decorated its picnic space with a stuffed pony and a miniature cart. Another group, with a nod toward Radnor's fox-hunting tradition, topped its table with stuffed animal foxes decked out in red riding jackets and tall boots.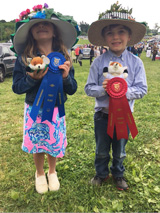 Flowers were the most popular choice of the day, adorning everything from tables to antique cars to women's hats and the winners' table. Horses, land and flowers even made an appearance in the children's hat division- winners Victoria and Zachary incorporated the Brandywine Valley, carriages, flowers and miniature horses into their respective winning entries. The siblings were thrilled to each take home a ribbon and a souvenir stuffed fox.
Editors Note: The winning horse, Jamarjo, owned by Irv Naylor, was trained by jockey Paddy Young.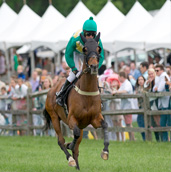 Paddy suffered a fall at the races and was not able to ride the horse. Graham Watters filled in as jockey to pilot the horse to the National Hunt Cup winners circle. Paddy was told of the win at the hospital, and although he is unable to speak at the moment, shed a tear of joy at the news. Photo Courtesy of Tod Marks, provided by NSA