By Samantha Faciolo-August 2017
Fall is on the horizon, meaning cooler temperatures for both you and your horse, but tack shop sales are heating up. Now's the perfect time to stock up on warm weather riding gear for those last dog days of summer.
Equestrianlist spoke to Kristina, a saleswoman at Dover Saddlery in Hockessin, Delaware, and to Jacob Pope, a young, professional rider currently with Team Rakowsky Equestrian in Wellington, FL to find out what's hot in summer riding.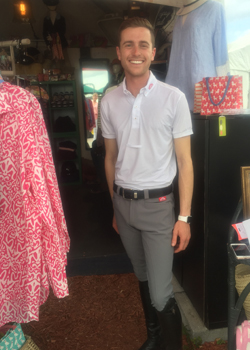 Several equine brands, following the lead of mainstream athletic apparel companies, have incorporated new technology into their clothing. Ariat, Tailored Sportsman, Riding Sport and others offer summer gear with features like UV protection, wicking fabrics and mesh. Many also offer long sleeved varieties of their popular short sleeved and tank tops. Kristina explained that while most people reach for sleeveless shirts in the summer months, several of these new, long sleeved shirts utilize cooling and wicking materials while providing protection from the sun. Jacob agrees, saying he always rides in long sleeved shirts with collars that can be worn up for extra protection. He appreciates the advances in wicking materials and ventilation offered in some of these newer options.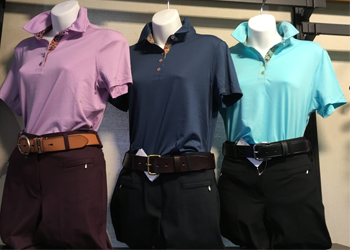 For women, some of the recommendations in summer clothing include Ariat's HeatTek series, the Tailored Sportsman IceFil shirts, TredStep's Performance Polo, and Riding Sport's CoolBlast shirts. Ariat offers the Freja cooling tight, billed as a cross between a traditional riding breech and a yoga pant, Kerrits has its Ice Fil Tech tight, and Dublin offers a Cool It gel tight for warm weather riding.
Choices in children's clothing have greatly expanded too. Kerrits is always popular, with a variety of patterns and colors to choose from in both riding pants and tops. In addition, Riding Sport is now offering tees and tanks made from tech materials, and Ariat sells a mini-version of its adult gear complete with UV protection and mesh ventilation.
Likewise, men's options, long the afterthought of most tack shops, have followed suit. Riding Sport and Ariat both boast their Coolblast and TecHeat Series shirts and Tuff Rider has Coolmax breeches for men. Jacob, who spends most of his year training under the hot Florida sun, recommends EIS long sleeve shirts for their combination of UV protection and mesh underarm ventilation. He also recommends an Italian brand called Galante for everything from breeches to shirts to saddle pads and ear bonnets. He says, "They look great [and] keep me as cool and sweat-free as possible through the hot summer show days."
As well as protecting the rider, it's also important to be aware of your horse's comfort and safety during the hottest months of the year. Tips to keep in mind include taking extra water breaks for horse and rider, scheduling riding times earlier in the morning or later in the evening, away from the worst heat of the day, and keeping strenuous workouts to a minimum. It can also be a fun time to get out of the ring and head for a shady trail through the woods.
With the proper apparel and a plan in mind, summer riding can be a breeze. We'll be back in the fall with the latest in cool weather riding gear, but until then, happy trails!