Pennsylvania Listings
Klinicki Massage
Mertztown, PA 19539
Category: Chiropractor and Massage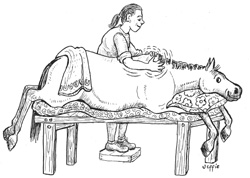 www.klinickiequinemassage.com
Katherine Klinicki
610-417-4815
This email address is being protected from spambots. You need JavaScript enabled to view it.

COMMENTS:
Klinicki Equine Massage provides certified equine sports massage therapy for horses in Eastern PA, NJ, and DE. We will travel to your equine partner, and provide them with a massage that will be sure to increase their comfort and performance.
Marvel Massage
Pottstown, PA 19465
Category: Chiropractor and Massage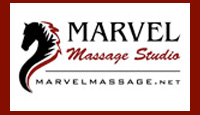 www.marvelmassage.net
Michelle Przemieniecki
610-310-8712
This email address is being protected from spambots. You need JavaScript enabled to view it.
101 Stockton Square
COMMENTS:
Marvel Massage Studio was established to address the physiological needs of the horse and rider. Regardless of your discipline, the horse and rider are exposed to continuous strain and tension in their muscles from work, competition, and constant repetitive training. Research has found that releasing the muscle tension through proper massage and stretching techniques can lengthen the muscle fibers and improve the athletes range of motion while optimizing the muscles performance. This improvement can make the difference in winning or losing a competition. Michelle Przemieniecki (aka, Michelle P.) LMT, Certified Equine Massage Therapist Owner & President of Marvel Massage Studio, LLC, Has over 40 years of being involved with Horses. She has spent many years as a member of the United States Pony Club working her way up through the ranks while breaking and training some of Pennsylvania's top show horses. She loves being able to make your horse feel the best he can so that you can have the best ride that you can. Call today to schedule an appointment.