Devon, PA - April 11, 2017 - Exhibitors and spectators for the 2017 Devon Horse Show and Country Fair will notice major renovations to the historic show grounds when they come in May. Many projects have been ongoing throughout the past year and will be completed in time for the 2017 season, creating the perfect atmosphere for the annual event "Where Champions Meet."
Upgrades to the facility are numerous and include completion of significant renovations of stall interiors. Supporters of the restoration program for the Devon Back Barns receive a horseshoe plaque displayed for 10 years on the Wall of Honor to recognize their gracious donations.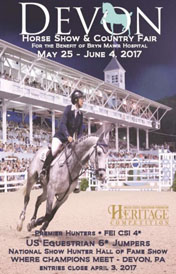 Lighting in the Dixon Oval and Gold Ring has been improved with additional lighting and backlit cupolas that will be lit from underneath. Two large LED sign boards has been added that will be visible in the country fair section of the grounds.
Seating options at the show have expanded this year too. The East 4 grandstand is now a double decker tent and the capacity has been maximized to accommodate 148 extra seats. As eventing is introduced to Devon, the class is anticipated to draw new spectators to the Dixon Oval not seen in previous years.
Additional facility improvements include the addition of tent roofs in the vendor area behind East 2 and 3 grandstands to make them more all-purpose and weather resistant. Handicap accessible bathrooms have been added on the east side of the grounds. Behind the east grandstands by the Clydesdale's Corner Pub, the picnic table area has been doubled to twice its previous capacity to accommodate the increase in visitors.