Maryland Listings
Summerfield Farm
Boonsboro , MD 21713
Category: Trainers,Lessons,Trails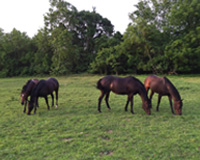 www.facebook.com/Summerfield-Farm-LLC-366612657399
Contact Farm
301 991 8138
This email address is being protected from spambots. You need JavaScript enabled to view it.
6628 Old National Pike
COMMENTS:
Field board $175 per month. Quality Feed provided 2x/day. Field board horses have access to 3 large pastures. Horses also have access to a 24x48 foot run-in with hay offered 24x7. Salt and Big Sky free choice minerals provided. Lots of room to ride in large fields. Stadium jumps and various cross country jumps are available on grass footing. Round pen with sand and gravel footing available also. Other services available and negotiable. Perfect for retired horses. Owners are very knowledgeable horse people and live at the farm for optimal care and attention. We are conveniently located off alternate route 40 in Boonsboro with easy access to numerous events and trail riding.
Fox Den Farm - USA, LLC
Chadds Ford, PA 19317
Category: Trainers,Lessons,Trails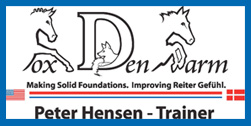 www.foxdenfarm-usa.com
Peter Hansen
484-459-7423
This email address is being protected from spambots. You need JavaScript enabled to view it.
42 Blue Stone Drive
COMMENTS:
Fox Den Farm, Chadds Ford, Pennsylvania, is accepting new clients interested in boarding, training, lessons & horse sales. All equestrian disciplines welcome. Our well maintained and spacious facility overlooks the Brandywine River and includes a lighted indoor arena with sand/rubber footing, a lighted and fenced outdoor arena, a round pen, a very large grass area for jumping and flatwork, and a large grass racetrack attached to hills for conditioning and trail riding. 12 x 12 rubber matted stalls have large windows and are well ventilated. Professional training and lessons given by Peter Hansen, licensed USEF Judge & German Bereiter, in a friendly, no drama atmosphere. Cavaletti to improve horse suppleness & responsiveness, double lunging and in-hand collection work offered in addition to dressage and jumping lessons; school masters available, if needed. Visitors welcome by appointment.
Olney Farm
Joppa, MD 21085
Category: Trainers,Lessons,Trails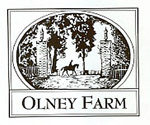 www.olneyfarm.com
Ami Howard
410-877-7690
This email address is being protected from spambots. You need JavaScript enabled to view it.

COMMENTS:
Boarding, Breeders of Shetland ponies for kids, Horses, ponies for sale
MK Equestrian
Kirkwood, PA 17536
Category: Trainers,Lessons,Trails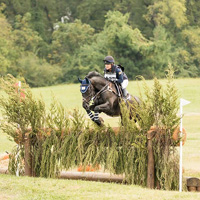 www.mkequestrian.com
Molly Kinnamon
559-287-7285
This email address is being protected from spambots. You need JavaScript enabled to view it.
350 Sproul Road
COMMENTS:
MK Equestrian currently runs a successful training and competition program out of the peaceful Principia Stables located in the beautiful Andrews Bridge hunt country of Kirkwood, PA. As a full service sport horse/eventing facility, clients and students have access to all the amenities including a grass jump field & dressage court, professionally constructed indoor and outdoor rings, a hot walker, access to miles of rolling hills for conditioning work, heated wash/tack bays, large stalls, and plenty of turn out.
MK Equestrian attends USEA and FEI events throughout the country and also partakes in the many local cross training opportunities in our area; dressage, h/J, paper-chases and starter trials. During the winter months many of the MKE riders and horses travel south to partake in the many schooling and competition opportunities available in February and March.
Principia Stables remains open year round, winter only boarding and or stall rental is available.
Close proximity to MD, DE and PA
Sally Cousins Eventing
Oxford, PA 19363
Category: Trainers,Lessons,Trails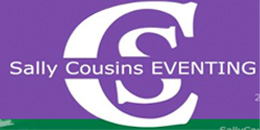 www.sallycousins.com
Sally Cousins
610-324-6628
This email address is being protected from spambots. You need JavaScript enabled to view it.
391 Ray Mar Rd
COMMENTS:
2008-2012 USEA leading lady Rider of the year!
My goal is to train horses and riders of all levels to compete in horse trials and Three-Day Events. I am always willing to take on riders and horses for training. Please visit my website often for updates as I pursue these goals. We welcome your help, ideas or sponsorships that would assist our team in our pursuits
DQ Performance Horses
Pilesgrove, NJ 8098
Ana DiGironimo
6094057929
This email address is being protected from spambots. You need JavaScript enabled to view it.
350 Mannington Yorketown Rd
COMMENTS:
DQ Performance Horses is a dressage training and boarding facility located in the heart of southern New Jersey. DQ is a premier equestrian facility that provides the best care for your horse or pony. With top of the line amenities and Grand Prix dressage trainer on site makes this facility unique. We welcome riders and horses of al levels and breeds. Contact us for more information or for a tour of our farm!
Exclusive Rights Farm I and II
Townsend, DE 19734
Category: Trainers,Lessons,Trails

Amy Trout
302-561-5401
This email address is being protected from spambots. You need JavaScript enabled to view it.
761 GumBush Road,
COMMENTS:
Self or partial care boarding available at two sites in Southern New Castle County De. Several options available . Individual t/o, roomy stalls,tack rooms, hay and feed storage, outdoor rings at both sites and trail riding from farm.On site management 24/7. Exclusive Rights Farm I and II. Both Farms are Part of the Delaware Certified Thoroughbred Program. (DCTP)
Hy-Point Grein
Wilmington, DE 19803
Category: Trainers,Lessons,Trails

Jay Meany
302-420-0739
This email address is being protected from spambots. You need JavaScript enabled to view it.

COMMENTS:
Multiple locations in North Wilmington convenient to RT 202/RT1/I-95. Thousands of acres of trails accessible from all locations. Contact us for stall availability.