New Jersey Listings
Affordable Jumps
Collegeville, PA 19426
Category: Equine Dentist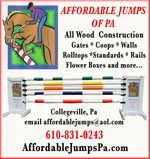 www.affordablejumpspa.com
Marcie McNabb
610-831-0243
This email address is being protected from spambots. You need JavaScript enabled to view it.
4237 Creek Road
COMMENTS:
Affordable jumps is offering a special deal. Buy 4 pairs of Basic Jump Standards and get One pair of standards for FREE. Also, Buy 5 Jump Rails and get one Jump Rail for FREE. For Pricing and special rates contact Affordable Jumps You will not be disappointed.
While you are on their website check out check out their Custom Logo Gates. This is a great gift for your special trainer/farm. You still have time to order for Christmas
Chester County Fencing LLC
Honeybrook, PA 19334
Category: Equine Dentist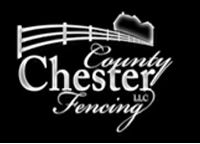 www.chestercountyfencing.com
Jesse Fisher
(610)273-3300
This email address is being protected from spambots. You need JavaScript enabled to view it.
772 Poplar Rd
COMMENTS:
Chester County Fencing is a family owned business serving residential, commercial, and agricultural customers. We offer free estimates, competitive pricing, and expert installation.
We specialize in providing you, our customers, with quality fencing options and individualized customer service.
Call us today to get your next project started!