Applications for the 2018 Thoroughbred Makeover opened on Dec. 1, and we're about midway through the application period. So far, we've received 347 applications, up slightly from last year's total of 330 at this time. A little more than one-third of applicants are returning competitors, meaning they were also accepted to compete in a prior Makeover. And 12 of them have competed in all three Makeovers held at the Kentucky Horse Park, and are applying to return for a fourth time! Forty-seven trainers have applied to compete with two horses.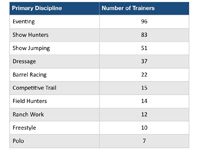 We've received applications from 39 states and two Canadian provinces (including our first-ever application from Saskatchewan). As usual, Eventing is the most popular primary discipline selected by applicants, followed by Show Hunters and Show Jumping.
In 2017, applications were accepted on a rolling basis, and by the end of the application period we had accepted 578 trainers. Due to the uncertain nature of training green horses, however, many of the accepted trainers drop out before the competition; about 300 actually made it to Kentucky to compete.
This year, applications will be accepted through Jan. 15, and will then be evaluated and acceptances will be announced on Feb. 1.
For more information about the 2018 Thoroughbred Makeover, or to apply, click here.